Biography of His Eminence Gyangkhang Rinpoche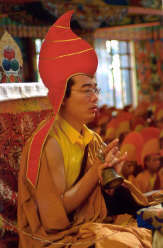 First Gyangkhang Rinpoche
The first Gyangkhang Rinpoche, named Wong Shu, was born in the sacred place of Guru Rinpoche, Gangrig in Tibet. He was the brother of Karma Tashi Rinpoche, the fourth throneholder of Palyul lineage - one of the six major lineages of the Nyingma Tradition. Prophecies in many scriptures of oral transmission and treasure transmission revealed that he was an emanation of Avalokitesvara. Countless sentient beings were liberated through his priceless teachings.
Second Gyangkhang Rinpoche
The second Gyangkhang Rinpoche was named Rigzin Jigme Longdrol, which literally means, "The Fearless Awareness Holder who is liberated in the Vast Expanse". The teachers from whom he received teachings were Karma Nyinjed Tsewang Wangpo, Karma Jigme, Jigme Gyalwai Nyugu (Paltrul Rinpoche's Master), and Jigme Tsewang Chogdrub. He listened to all the three Baskets of teachings (Tripitaka) namely the Vinaya (Moral Discipline), Sutra (Teachings on Concentration), and Abhidharma (Buddhist Metaphysics). In addition, he also received the Mahayana Teachings or the teachings of the higher vehicle, and the teachings of both the Transmitted Precepts (Kama) and the Rediscovered Teachings (Terma). In the early part of his life, he made great contributions in propagating the distinct teachings of the Palyul Lineage. He spent the later part of his life staying in retreat at a holy cave of Wrathful Guru Rinpoche. Whilst practicing, he gave Dzogchen Teachings to thousand of students and also built many stupas and sacred images of Buddha. Moreover, he accomplished both the generation as well the completion stages of meditation and tamed countless visible and invisible sentient beings. Thus he was considered a great master and a widely respected awareness holder.
Third Gyangkhang Rinpoche
The third Gyangkhang Rinpoche was named Pedma Kunsang Tenzin. When he was a child, he often talked with Chenrezig (Avalokitesvara), just as if conversing with another person. One of the Sakya Masters, Khenpo Baden Chishong Rinpoche recognized him as an authentic incarnation of the Second Gyangkhang Rinpoche. He studied under great masters such as Jamyang Khentsei Wangpo, Gyatrul Pema Dongag Tenzin, Jamgon Kongtrul Lodroe Thaye and Ridzin Dzotu Pawo Dorje. He listened to the entire Kama and Terma Teachings of Nyingma Tradition, practiced them and then taught to his disciples thus making a remarkable contribution in the propagation of Buddha dharma.
Fourth Gyangkhang Rinpoche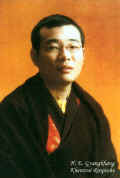 The fourth Gyangkhang Rinpoche was born in India. H.H. Penor Rinpoche, H.H. Dujom Rinpoche and H.H. Dilgo Khentse Rinpoche recognized him as the authentic incarnation of the third Gyangkhang Rinpoche.
In his fifth year at the institute, Gyangkhang Rinpoche displayed his spiritual knowledge by giving a lengthy discourse on Sangway Nyingpo (Magical Net Tantra, a Mahayoga Teaching) before His Holiness the Fourteenth Dalai Lama and an assembly of thirty thousand people, both lay and ordained from all the different religious traditions of Tibet. He also debated on this subject and emerged victorious. His Holiness the Dalai Lama praised his wisdom in front of all and offered him a khata, a traditional scarf, encouraging him to hold, sustain and disseminate the teachings of Lord Buddha for benefits of all beings.
He completed the nine years course in the institute and considering his high level of knowledge, Penor Rinpoche bestowed upon him the title of a "Khentrul" and recognized him worthy of a dharma teacher who can guide others towards the path of enlightenment.
At present, he is teaching in the Ngagyur Nyingma Institute and also assisting Penor Rinpoche in shouldering monastic responsibilities, he is the vice-president of the Namdoling monastery in India.
Gyangkhang Rinpoche has studied the meaning of Lord Buddha's teachings both the sutra and tantra.On several occasions, he has represented His Holiness in many dharma centers around the world. Very soon as requested by the dharma students in Taiwan Gyang Khang Rinpoche will be visiting Palyul Dharma Center. Information on his date of arrival and Dharma activities will be provided later.